From Lighting Fixtures to Organization Tips, Here's How to Get Your Kitchen Market-ready.
Staging a kitchen is one of the most important things on a seller's priority list, as it has been said that the condition of your kitchen can be the thing that makes or breaks the sale of your home. Kitchen staging can mean a big difference between selling quickly or having your home stuck on the market for an unlimited amount of time. But not to worry—you don't need a full kitchen renovation to get your home sold faster. You just need to be able to fix and stage it in a way that makes your kitchen look appealing to the broad range of possible buyers looking at your home.


Granite Countertops
Granite countertops are among the most popular modern trends in kitchen styling. Granite is generally more stylish since it can fit into all of the aesthetics the home seller is trying to portray. It will never go out of style because it is made of 100% natural materials—wood, stone, and plants. Each slab can be customized by the people who wish to install it into their home, thus making it virtually impossible for granite to ever become dated. Real estate experts also claim that granite increases the overall value of a home.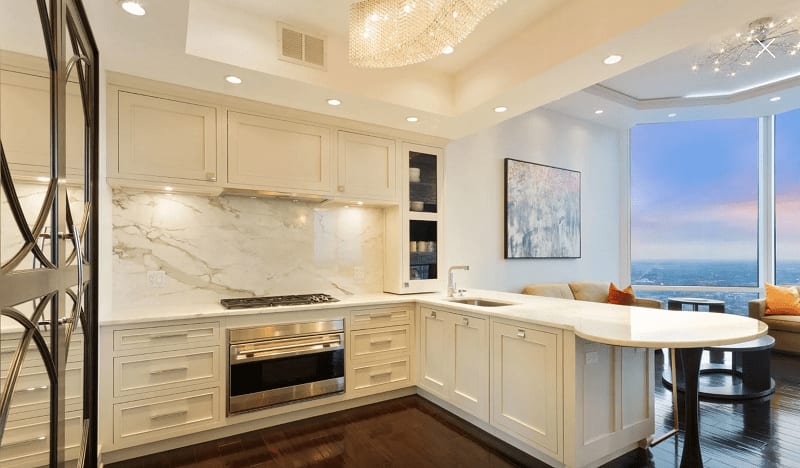 Lighting
The thing about lights is they can easily become dated. Some houses have outdated fixtures, with lighting that either doesn't look appealing with the rest of the kitchen or are part of outdated lighting trends. If you have old-fashioned light fixtures in your kitchen, it's best to make them more modern or contemporary. Your kitchen will immediately look newer and since lighting affects how a person perceives a room, potential buyers will most definitely notice. We advise you to use daylight-style bulbs since they will make the space feel bigger and more open.


Quartz Countertops
While granite is more aesthetically pleasing, quartz countertops are more durable. For example, if you're trying to sell a house that's suitable for a family, quartz may be the best option since it's harder and almost indestructible. Because of its durability and its modern, sleek appearance, having a quartz countertop is the option you want to go for if you prefer something long-lasting and strong over stylistic. Quartz countertops are also easier to keep bacteria-free and do not stain. However, it does burn easier so if you like to cook hot food and place them on your counters, be aware of this.


Decluttered Countertops
A big trick to staging a kitchen is making it appear bigger than it is. The one thing you should do—the absolute first thing, really—is clear off your countertops. Small appliances, such as a toaster, should be put into a cabinet. Small decor can be left out to give the counter and kitchen some additional character. Buyers enjoy having a lot of countertop space so decluttering your countertops is a good way to make the kitchen as a whole feel larger and less claustrophobic. If you already have a larger countertop area, you can keep one or two smaller appliances out, but it's best to keep any items strictly decor for the buyer's benefit.
***"Strategically placing small groupings in the corners, or places to guide the buyers eye around the kitchen is key. Blocks of knives, small appliances and small everyday use items should be removed. Decorative canisters or even San Pellegrino bottles can add a simple, yet effective pop of color, if needed." - David Cieslak of
Signature Staging
Cabinets and Hardware
If you have cabinets that are a little dated or a little worn, painting them is a simple and cost-effective solution to getting a full renovation. Make sure they match the lighting in the kitchen and the countertops—neutral is best. While you're at it, managing how the knobs on the cabinets look, for example, wouldn't hurt—it will make them look brand new and fresh. Depending on the particular aesthetic you are hoping to go for with your kitchen, it's best to directly match your cabinets with your countertops and your appliances with each other so they won't clash or mismatch. If you have a rustic scheme, make sure your counters complement it. If you have a sleek, monochromatic scheme, make sure your cabinets are white or gray, or even go as far as using the same material you used for your countertops. The space will look fresh and clean when everything matches.


Decoration
If you have a salad bar, for example, or an extended counter, it's best to have minimal decoration. Put out something that makes a statement about the kitchen and adds flavor, but don't make the room look smaller by overly decorating it. If you have a table in your kitchen, put out a fruit bowl to add natural color and decoration to the room. If you have enough space on your counters and still want to add something, like a pop of color, consider placing a full bottle of red wine. If you want to make the counter space homier, consider adding something like a cookbook propped up on a small stand or easel. Giving your kitchen character is not an inherently bad thing if it's done right—it can help potential buyers see themselves in this kitchen for the foreseeable future.
***"For decor and for photos, a simple flower arrangement is also effective. With more people baking, cooking and staying home with the pandemic, portraying how a buyer can use the kitchen to its fullest potential, if home, can be achieved with some simple vignettes." - David Cieslak of
Signature Staging
.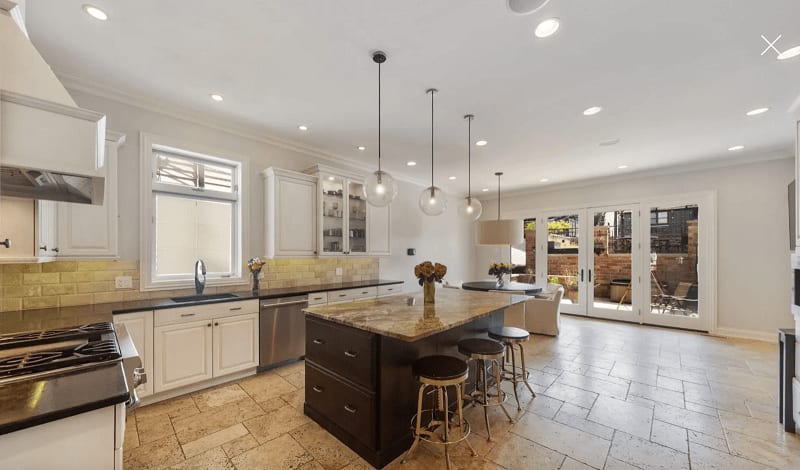 Clean Everything
Decluttering is not the only important thing. Hire a professional cleaner to clean your kitchen top to bottom—counters, floors, appliances, sinks, everything. Make sure your windows are all wiped down, inside and out, so that they are stainless and smudge-free. If you have heavy drapes or curtains, clean them or consider removing them. If you have a carpet in your kitchen, either remove it or have it steamed and cleaned. Even go as far as to clean inside your pantry, kitchen closet, cabinets, fridge, and so on. Potential buyers can and will open them to look inside and judge, and any messes may turn them off. Beyond that, organize your cabinets and fridge as well. Remove anything that could be considered excessive or may look mismatched. If you still need to use these items for your day-to-day, consider placing them in a box and hiding them while the buyers are inspecting. If you have any dish towels or hand towels in your kitchen, clean or replace them.

Final Touches
Once the bulk of the work is done, look around the kitchen and see if you can add anything for some spice—something to bring extra life to the room. For example, a small circular table with two chairs and a few decorations can give the room character and allow buyers to see the possibility of the kitchen belonging to them and their family. Small knick-knacks are pleasing to the eye if arranged in odd groupings such as three or five.

If you want to add a bit of color, make sure you compliment the existing color schemes already in your kitchen. As an alternative to bringing in unique colors that do not match your scheme, open your blinds and keep things away from the window so you can let light stream in to liven up space.

As well, make sure your garbage and recycling are cleaned out and all pet-related items are moved out of the kitchen—this way buyers won't be turned off by any bad smells. Clean out any expired items from your fridge and pantry to get rid of any lingering smells. If you have one, squeezing a lemon down your garbage disposal should get rid of any smells that may remain.
Want More?
If you are interested in Chicago luxury homes for sale, specifically River North Chicago real estate or condos for sale in Old Town Chicago, please contact
Margaret Baczowski
.